Who We Are...
From Alaska's borders, from coast to coast and overseas, the Alaska Polka Chips have been entertaining with their style of music for every occasion. Marge Ford and her sister Patti are creative songwriters and musicians who love the very music they play and it shows. Every performance is filled with surprises and humor and the best dance music you will find. If you haven't discovered their brand of music, it is time you did.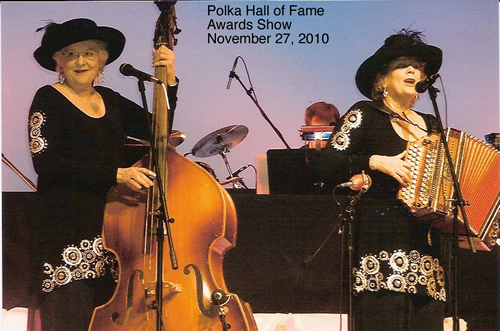 Patti and Marge
Cleveland, Ohio
Thanksgiving Weekend 2010

The Alaska Polka Chips perform regularly in Alaska, and have performed in the lower 48 states, from Las Vegas to Atlantic City, and from California to Florida, as well as internationally in Great Britain, Austria, Greece, Italy, the Caribbean and Australia. The Alaska Polka Chips play for all occasions - dances, private events, weddings and festivals.
Latest News...
"Our latest DVD-Live on Mollie B Polka Party".
As seen on RFD-TV. From the Band in the Land of the Midnight Sun, The Alaska Polka Chips.

$20.00 plus $3.50 shipping and handling

Send check or money order (no credit cards please) to:

Marge Ford
PO Box 92294
Anchorage, Ak 99509
oldtime@gci.net
Check out the Indie Alaska video on Marge Ford. A wonderful interview and video produced here in Alaska for PBS. (3.33 minutes long).
http://www.alaskapublic.org/indiealaska/


*************************************************************************************
Our BRAND NEW CDs,
Triple Crown Serenade
and
Polka Hooty Booty
are receiving rave reviews from Polka DJs across the country!! Available NOW and we'll autograph them just for you or your friends.
Keep up to date on polka and accordion events in Alaska by subscribing to the Alaska Polka Events Google Alert. Enter your email address in the box below and click subscribe. We send out alerts for all events polka and accordion in Alaska and if a band travels outside we will let you know that too!